The first month went with adjusting to new and unknown activities, life with roommates, but firstly getting to know the Zagreb city.
A big impulsion is my roommate from Turkey who speaks English, so I have a big opportunity to learn English much better.
Zagreb really has beautiful lakes, Bundek and Jarun, where we momentarily had driven our bikes, enjoyed in a beautiful sunny day. Also the first week we used to go and visit to the Museum of illusion with Jelena and Tihana. We were very surprised because all of those illusions were real and we had the chance to experience them.
As for the work in the Circles, the best impression on me left the Donation Center. There are a lot of toys, that people donate and all of them are sold in the purpose of helping kids that are cancer patients or to elderly people that need help.
The first week was a start of getting to know everything that is for us to experience. In the next period, I can say that I liked everything and I couldn't wait to start. We had a lot of information which needed to be rearranged as easier as possible. So we could get done with our obligations. The first meeting with the project was a home visit. I was very pleased that we put a smile on somebody's face and managed to help with the medical purchase and doctor visiting. For us all of that is easy, but the person which is not capable to do those things was happy we helped her.
Every beginning is hard, but when you had good people around you everything is easier.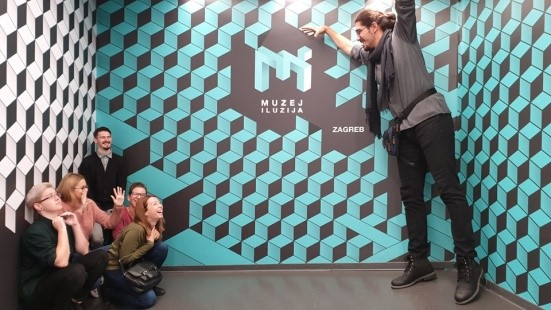 Moj početak ESS programa
Prvih mjesec dana proteklo navikavanjem na nove i do sada nepoznate aktivnosti, na život sa cimerima, prvenstveno upoznavanje grada Zagreba.
Veliki podsticaj mi je to što je jedan cimer iz Turske i govori Engleski jezik, s toga imam veliku priliku da još bolje naučim i usavršim taj jezik.
Zagreb stvarno ima dva prelijepa jezera Bundek i Jarun, gdje smo odmah pri dolasku provozali se sa biciklima, uživali u lijepom sunčanom danu. Također prvu sedmicu smo iskoristilli i za posjet muzeju iluzija sa Jelenom i Tihanom. Iznenadili smo se jer sve te iluzije ustvari uživo vidimo i doživljavamo.
Što se tiče rada u Krugovima, lijep dojam na mene je ostavio najviše Donacijski centar.Tu se nalazi veliki broj igračaka, koji ljudi doniraju i to se sve prodaje u svrhu pomoći djeci oboljeloj od raka ili starijim osobama kojim je pomoć potrebna.
Prva sedmica je bila početak upoznavanja sa svime što nas očekuje u narednom periodu, mogu reći da mi sve jako svidjelo i jedva sam čekala početi. Imali smo dosta informacija koje je trebalo rasporediti što lakše i bolje da bi mogli obaviti sve svoje obaveze. Prvo upoznavanje sa projektom je bila kućna posjeta. Bilo mi je drago što smo nekome izmamili osmijeh i uspjeli pomoći u kupovini lijekova i posjeti doktoru. Jer za nas je to veoma lako, a ona osoba koja nije to u mogućnosti uraditi značila joj je naša pomoć.
Svaki početak je težak, ali kad imaš dobre ljude oko sebe sve je lakše.
Pozdrav Kristina