The most beautiful things in the world cannot be seen or touched, they are felt with the heart
Hello to all! I am Fabrizio and after spending 7 weeks here many things happened already. I wanted to share my experinece with users from Circles Centre.
Working with people in need is a responsible task. Sometimes you are happy, sometimes you are sad… Sometimes you aren't sure how to react properly, but then you listen to your inner feeling. Be the human after all and help to others. Make them company and just be there.
Sometime just silent presence is enough to heal…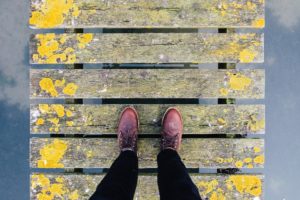 My first contact with the lady in a wheelchair
On October 4th I went to visit an old lady with the assistance of another Croatian volunteer. I was very nervous because it was my first visit, at the same time I was very excited. B. is a really old lady, and sadly quite immobile. In fact, she can't get up on her own, and needs help to get up from her bed and to be put into the wheelchair. So we carried her in our arms so she can sit.
I arrived in front of her apartment and met the other Croatian volunteer, a very nice girl named Tea, who tells us that we have to enter the house. Entering the house we found B. lying on the bed. She welcomed us with a smile and I began to introduce myself with my poor Croatian, saying her that my name is Fabrizio and I'm here to help her to get out of the bed to put her into the wheelchair.
We went out to the street and took a forty minute walk. Tea and I took shifts to scroll the wheelchair in the street around her home. Because of the language, it was easy for Tea to chat with B., so they did most of the talk. Then, it came up to me that I had never brought anyone on the wheelchair before. I was sad for B.'s condition, but at the same time it felt nice because I knew I was bringing some serenity and care to a person who was in her age. Something that is difficult to forget was when B. took my hand and started kissing it and I felt gratitude that I was there.
She repeated this gesture several times during the afternoon, when I was carrying her in the wheelchair and even during taking a photo together. She asked Tea if I will come back to visit her. At that moment I did not have an answer because I did not know it, but to make her happy I answered positively right away.
And so ended my first visit, for which I must say, was extremly positive and exciting. That day I returned home really satisfied and I was very happy that I would come back to lady B.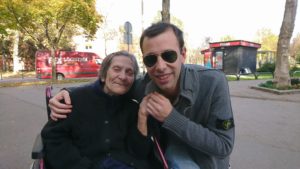 Helping elder people in hoseworks
On October 18th, me and my project companion Carmine visited J., a senior gentleman. Our motive for this visit was to help him cut his lawn, which was in bad condition, the grass was very long.
When arrived, J. welcomed us with simpathy and a very good English. He also knew a little bit of Italian. He immediatly showed us the condition of his lawn, and he got us his heard of lawn, showing us how to do it, since me and Carmine never did that before. Josip introduced us to his wife, a nice lady, who offered us some juice in the afternoon. I started to cut the grass first, under the careful sight of Josip, then it was Carmine's turn, and so on. We traded a dozen times for almost 3 hours.
It was very tiring, but in the end we were glad we did a good job. J.'s meadow had returned to normal length and both he and his wife complimented us for our commitment, telling us that we had done a great job.
He asked us couple of questions about our stay in Zagreb, if we were happy with the job, with whom we shared the house and how much we were paid. He also wanted to pay for our work but we refused and told him that we were there to help and we did not intend him to pay, so he was really happy with this statement. Then we greeted him and he wished us good fortune in Italian. Both Carmine and I came home exhausted but glad that we have done a great job.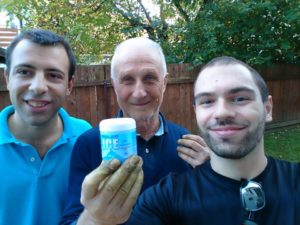 Wisting people who live in bad social conditions
My third visit, however, was in the company of my mentor Antonia. Like all the other people in Krugovi organization, she's been a great help to me since the first day.
On October 20th, together we went into a home of an old, poor and unfortunate gentleman. He couldn't say more that two words in a row without vomitting in his vomit bag. In this visit, we were only at his house and I spoke just a little, only to introduce myself and to say goodbye when leaving.
Antonia explained me the situation of S., which was really sad. He didn't see his sons and grandchildren for two years, since they lived in Mexico and could not come to Croatia because the tickets are very expensive.
This was surely the sadest visit I had. It left me with a sensation of deep sadness and made me think of how many more unlucky and suffering people exist in the world. It made me realise that I have to think twice before complaining about something, since my problems are nothing compared to him. I learned a lot from this visit and it was a great life lesson.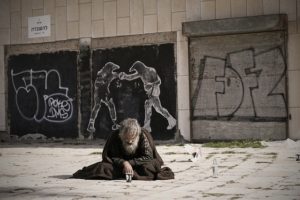 Helping to buy medicines and groceries
My fourth visit was on October 25th with Carmine and Helena, another Croatian volunteer. I came back to one elder lady, the lady with whom I had my first visit. Lady B. said nothing, but we could see her eyes shined and she was definitely happy to see both me and Carmine, in fact, she recognized us both. As usual, we helped her to her wheelchair and we went for a walk. Carmine started this time, and I took over later.
Unlike the first time, we did not just walk around, we also took B. to a grocery store. She wanted to buy bananas, apples and grapes. As soon as we finished shopping, we stopped on a bench and B. told us that Carmine and I are the best volunteers and we are her favorites. She also wanted our signature on a sheet of paper, we took photos and then accompained her home.
It really makes me very happy that such an elderly and suffering person is so glad to see me. Today I found out that I will come back to her on Friday and that made me so happy, since B. reminds me of my grandmother whom I was very attached to, unfortunately no more, because she passed away.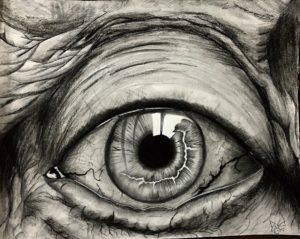 And sometimes, you just have to skip yout own limits- to help someone…
My fifth and last visit until now was the following day, that is on October 26th, always with Carmine and an another Croatian volunteer called Nikolina. We went to the house of another elderly lady. We helped her to climb a wheelchair to be able to get around and to have her lunch, exactly the 'cevapi'.
I must say that this visit was the most difficult, in fact, me and Carmine joked that this lady looks like the still-living nephew of Benito Mussolini, a well known Italian fascist. In short, she did nothing but give orders go to go here and there. Unfortunately for us, Nikolina had another appointement and she went and left us alone with this old lady, who kept talking to us in Croatian pretending that we knew what she was saying.
When she arrived at her place, she wanted us to cut the cevapi because she did not have teeth. I wanted to cut them, but she forbade me to do it with the knife, instead she wantend me to split it with my hands. She continued to give us incomprehensible orders so much, that we have been forced to call our volunteer coordinator Ramona who fortunately solved the issues. At the end, old lady greeted me nicely. I must say it was my least positive visit, but it will definitely be useful in the future.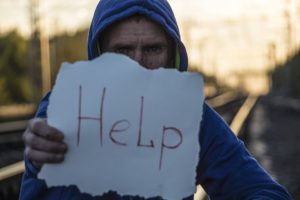 "The most beautiful things in the world cannot be seen or touched, they are felt with the heart."


― Antoine de Saint-Exupéry, The Little Prince
Fabrizio