Beginig of the EVS jurney
Hello everybody!!
We are four European volunteers  just arrived in Zagreb (Croatia) from Poland, Italy and Spain.
We have our previous stories, our past, and our lives in our countries, but one thing in common: the enthusiasm to begin this adventure.
Our journey with the EVS has just started, but first impressions are very positive.
We arrived in Zagreb on 20th of September. We were excited about getting to know each other, and we had the same questions in our minds…
How it will be?

Did I make a right choice?

How it will change my life?

Will I be able to live with three new people?

Can I do this job?
We spent our first night in another apartment, because ours was not ready. But finally, two days after, we did it! We had nice feelings when we came to our new home 🙂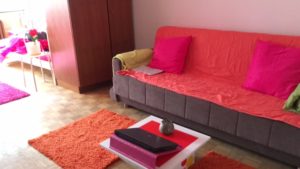 Our first informal meeting was on Thursday 21th, and we met Krugovi team. We introduced ourselves and it was really interesting, because it was a chance to know more about them.
By afternoon, we took the tram and we visited the City Center for the first time. We took a lot of pictures, we had Čevapi (typical Croatian food) and spent the afternoon in the Upper Town.
On Friday we took our bikes and went to Bundek park. W e wanted to get to know better our neighborhood in Novi Zagreb. The rest of the weekend we spent time on Jarun Lake and on Zagreb Burger Festival. It's a really beautiful place where you can do some sports, rest, go for a walk, go canoeing… And if you are lucky, you can take the sun 🙂
People
People in Zagreb are so nice, friendly and supportive. They are always willing to help us if we ask them! They enjoy their lives spendin­­g time in coffee shops, going fishing, going out…
Hosting organization
Our hosting organization makes every effort to help us to adapt to new situations. They gave us all the information that we needed. At the moment, we are preparing for the future activities. Soon we will start our volunteering project and we will visit elder people in their houses, people who suffer from malignant diseases, disabled, and children in hospital.
We have two menthors. Antonija and Imad gave us full support and we can contact them whenever we need. For example, we are arranging some activities for weekend.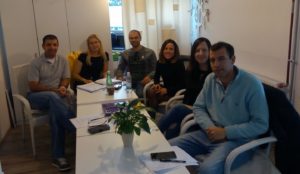 Croatian language
For all of us, it's an opportunity to learn a new language.
The organization provided us Croatian classes with a teacher. Now we are starting to learn some basic words, like months in year, numbers, colours, greetings…
We hope to learn more and be able to communicate with local people.
The City
Zagreb is well organized, clean and there's a lot of green areas, gardens and public parks. It is easy to move around with bikes and public transport – tram or bus, which are fast and frequent. In our free time we go to the gym, swimming pool, dance classes or wellness centre. Next weekend we are planning to visit Plitvice Lakes 🙂 We are thankful to European Commission and hosting organization Krugovi for giving us this unique opportunity.
That is all from us at this moment!
Vidimo se! (See you)
Asia, Poland
Carmine, Italy
Fabrizio, Italy
Marta, Spain