Charity activities through Fabrizio's eyes
"The best way to find yourself is to lose yourself in the service of others."
Mahatma Gandhi

My experience working in charity activities
Here I am to talk about new experience in Zagreb, after my first article about visits to older people.
But here in Krugovi there are other very important activities, which I now want to talk about.
The first thing I want to talk about are the stands in the malls, where we were trying to get funds for sick children.
I started on October 20th, in the company of my colleague Carmine and a Croatian volunteer named Zorica, a 60 –year-old lady who likes Italian very much, because her family has Italian origins. Me and Carmine named her our aunt because she has been very affectionate with us.
When we arrived at the Avenue Mall, precisely in front of the cinema, aunt Zorica explained us what we have to do attract people's attention, like saying: Can you help? – and indicate the stand with a sign 'Krugovi'.
Carmine and I alternated in saying this phrase to people with good results, in fact we got a good result, it sometimes happened that people also gave 50,00 or 100,00 kuna, instead of the classic 5,00 or 10,00 kuna.
The first time we were on a stand for about three hours. It was not easy to stand there and repeatedly ask for money, but we were quite productive and both of us felt nice, because it's really good to know that we did somenthing for the unlucky and sick children.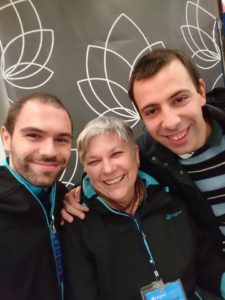 Getting better and better…
The second stand was a week later at Cvjetni Mall, always with Zorica and Carmine.
The results were also very good there, and also lasting for about 3 hours.
Carmine and I have used this time to attract people's attention, and with good results. Also, our relationship with Zorica became more and more affectionate. She told us about her family, her sons and grandchildren.
I was very saddened by her sentence that she wants to work because at home there was no one who was waiting for her, as her sons were all married and she also remained a widow twice, unfortunately.
I have seen a person with a kind heart who is always ready to help. In fact, I'm sure I'll be in touch with Zorica even after my experience here. And here my work on the second stand ended, always with the same good feeling that there is nothing nicer than helping children. It's a wonderful sensation that makes you feel a better person.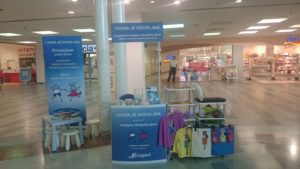 My third stand watch was a week later, at Konzum supermarket, not far from my appartament. Carmine was with me as usual, but Zorica wasn't there. Instead, Svjetlana was there with us, a Croatian lady who is a part of Krugovi. Carmine and I was able to spoke with her in English.
Here too, the work was the same, with similar results and duration.
With Svjetlana we had a good dialogue, we even got confidential. I was very pleased when she complimented me about how I worked with great effort and desire to help.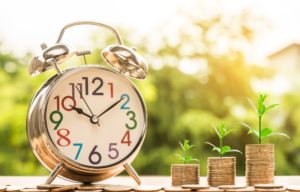 My fourth volunteering on a stand was held on november 10th, again at Konzum, but this one was very far from my home, about 45 minutes of tram ride.
It was my first stand without my collegue Carmine, and with me was a 70 years old lady, another member of Krugovi.
She was a very nice lady, with whom the three hours have flown, she also congratuled me on the way I worked and was very impressed with the fact that I arrived 20 minutes in advance of the expected time.
Since she started 3 hours before me, I proposed she takes a seat and rest for a bit while I do the work. She wanted to continue with the work, but I insisted. At last, she sat down for a while and took a break. Here too the results were very good and satisfactory.
At a certain point, she asked me if she could get me something to eat, and after about 15 minutes she came back with a chocolate and a biscuits just for me, insisting I have to bring them home and eat afterwards.
I did not want to accept it at first, but she told me I had to get it as a prize, since in those three hours, I was the only one working, so I accepted.
I got along with her very well, and she remembered me to Zorica, very much for her sweetness and kindness. With that, my fourth stand was closed.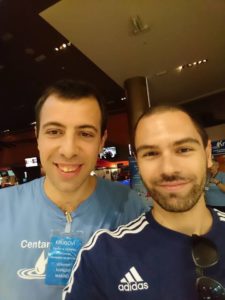 Finally, my last work on a stand happened on Saturday, November 18th, back at the Avenue Mall, where we had our first stand, in front of the cinema.
This time, with a much longer duration. We were there for 6 hours, instead of 3, and I was working again with Carmine and a 50 year old lady named Goga.
This time, I have to say that the results were lower, in relation to the the first 4 stands. Despite the fact that we doubled our time there, people were less available and we raised less money.
On the other hand, I have to compliment Carmine, because even he had a fever, he came to work and gave his maximum on that stand that day. We were really exhausted at the end, but satisfied because we were busy without any collaboration. However, at the end Goga was very kind and offered us a car ride, but we refused as we were riding the bikes.
With this, I'm closing the story of my volunteerin at the stands. I definitely gained a lot of experience and learned a lot. It made me understand how beatiful and important this project is, and how lucky I was to participate.
Fabrizio, Italy