ILICA
This is probable the first street that you'll actually notice. It's a street-photographer's dream. Ilica is the 3rd longest street in Zagreb and it's almost 6km long. What makes it so special is that all along it, there are shops- so it's basically the shop street. There aren't many cars and the atmosphere is happy, lively and fast.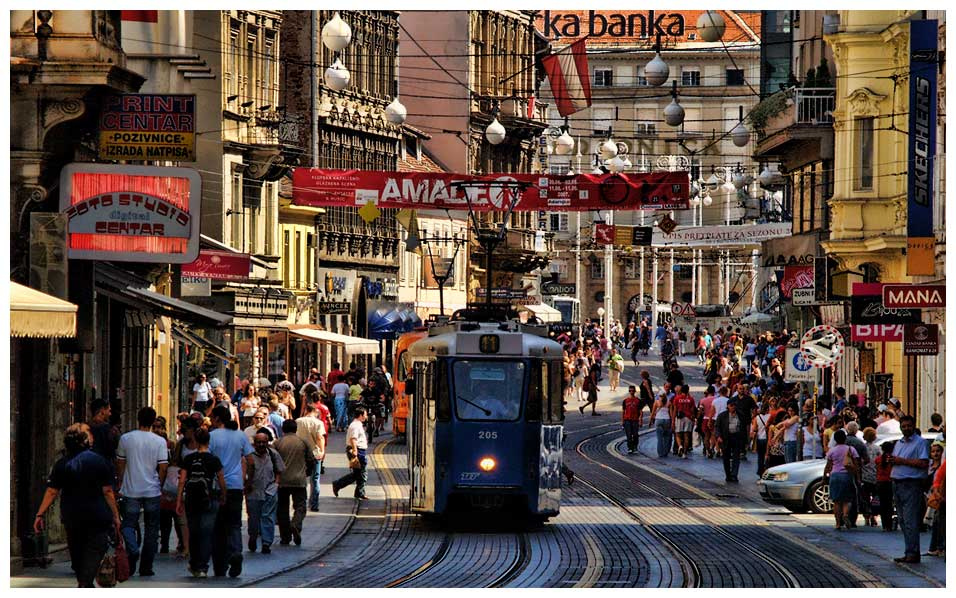 SHOPPING CENTRES
Talking about shopping, I couldn't skip Zagreb's malls. There's always one near you and all of them have a satisfying selection of things. There's West and East One (which are almost identical but each on the opposite side of the city), Arena centar, Avenue mall and Supernova- just to name a few. Access is relatively easy, as they all have public transport connections but also, a shuttle bus that takes you to them- this seems to be a thing here, even Ikea has its own bus. I know, I am talking a bit too much about shopping here but bear with me, after you see all of the town, there's nothing more that you can do besides shopping (even if you don't really buy anything).
THRIFTING
Talking about shopping, I can't skip on my favourite part, thrifting. Personally, I hardly ever shop from chain shops or anything that contributes to fast fashion. That's why, it didn't take me too long to find my favourite places to thrift in Zagreb. Let me introduce you, textile house. An amazing chain of second hand shops where everything is truly affordable. I've never seen anything cost more than 100 kuna (around 13 euros). Also, about once a month, they reduce everything, I mean EVERYTHING to 5 kuna! That's less than a euro. So it's really worthy of your time.
FESTIVALS
No matter at what time you'll come here, there will definitely be something going on. There's always some sort of convention, celebration, happening etc. Some of the most noteworthy ones are Advent- which lasts almost 3 months here- thanks to consumerism. All saints day- where every single person goes to Mirogoj and lights up one (or 100) candles. Inmusic festival, zageb film festival, Snow queen trophy and Dance week festival.
HISTORIC BUILDINGS
Zagreb is one of the oldest towns in Europe which means it also has quite a few old buildings! I personally really like the architecture and the way everything is built according to each other in the centre of the town. It's an absolute must to walk along Radiceva ulica which takes you from the main square to a part next to the upper town- where you'll also find 50% of Zagreb's cafe-bars, and Kaptol ulica which is less crowded once you pass the actual kaptol but trust me- it's worth it. Some of the loveliest houses are on that street! Also, it's a must to see the National theater of Croatia- Trg marsala tita, where even now, the best performances of the town are played there. Finally, the french pavilion, st mark's square, the are pavilion, lotrscak tower and the underground tunnels next to the art park are a must.
RUN ON SAVSKI
Something that I personally do almost daily, is run on Savski. Of course you don't have to run, but you need to go at least once there. Make yourself a nice drink and relax on a bench with the relaxing river sounds playing in the background. There's all kinds of terrain and A LOT of space for everyone. There's lights so it's kinda safe at night and very importantly, it's pleasant. On one side ofit, you have the Bundek park and on the other one, you have some interesting sculptures that will give you something to think about for the rest of your run. Finally, did I mention that everyone takes their dog there?
PARKS FOR EVERYONE
Zagreb is a green city. It's amazing how many parks you can find here. The biggest ones are Maksimir, Jarun and Bundek. Right in the heart of the city there's also the Botanical garden which makes me feel like I step into an aristocrat's secret garden so it is definitely worth a visit. On the other side of Sava, the Novi Zagreb side, you can find the most parks. You're never more than 500 meters away from one. They're not all the same but they all have great amenities for you to exercise there.
EAT AS MUCH AS YOU CAN
On a first glance, it looks like Croatia doesn't have that much traditional food. On a second one, you realize that there are thousand of things and you don't have enough bodies to eat everything. Like that, you also understand why Croats have alcohol in their blood. The selection of strong spirits is ridiculous- for such a small country. No matter what, you have to try rakhia while you're in Croatia. The must-eats here are cevapi (though it's not Croatian it's Bosnian), burek (which also isn't Croatian but people eat it all the time), sarma, crni risot and cvarci. It's also worth to mention that Croats LOVE meat, so trying the local delicacies is worth it.
NIGHTLIFE
Surprisingly or not, night-life is quite good here. You can find a party for your taste each week if you know the right places. In my opinion, partying here at least once is a must, the prices are cheap, transportation is easy, safety isn't an issue and the people are lovely. On Saturday nights it feels like the city comes back to life. There are numerous themed parties and clubs here organized by locals, for locals but also, there's almost always one esn party hidden somewhere in town. There you can meet other young international people and make friends more easily.
TRANSPORTATION
Transportation in Zagreb is good and bad at the same time. It really depends on where you live. There's buses and trams. The ticket is the same for everything and it's quite affordable I'd say. If you're not thank kind of person, uber is cheap here and taxi cammeo offers flat rate transportation to the airport (yes!). It's worth to mention that walking, biking and skating are also easy here. The city is completely flat (except for the upper town), there are bike roads and a lot of space for pedestrians. Plus, there aren't really many pedestrians. Greatly recommended. Did I mention that in many of the trams and buses, you get free wi-fi access? and that in the old trams you have heated seats? Well now I did.